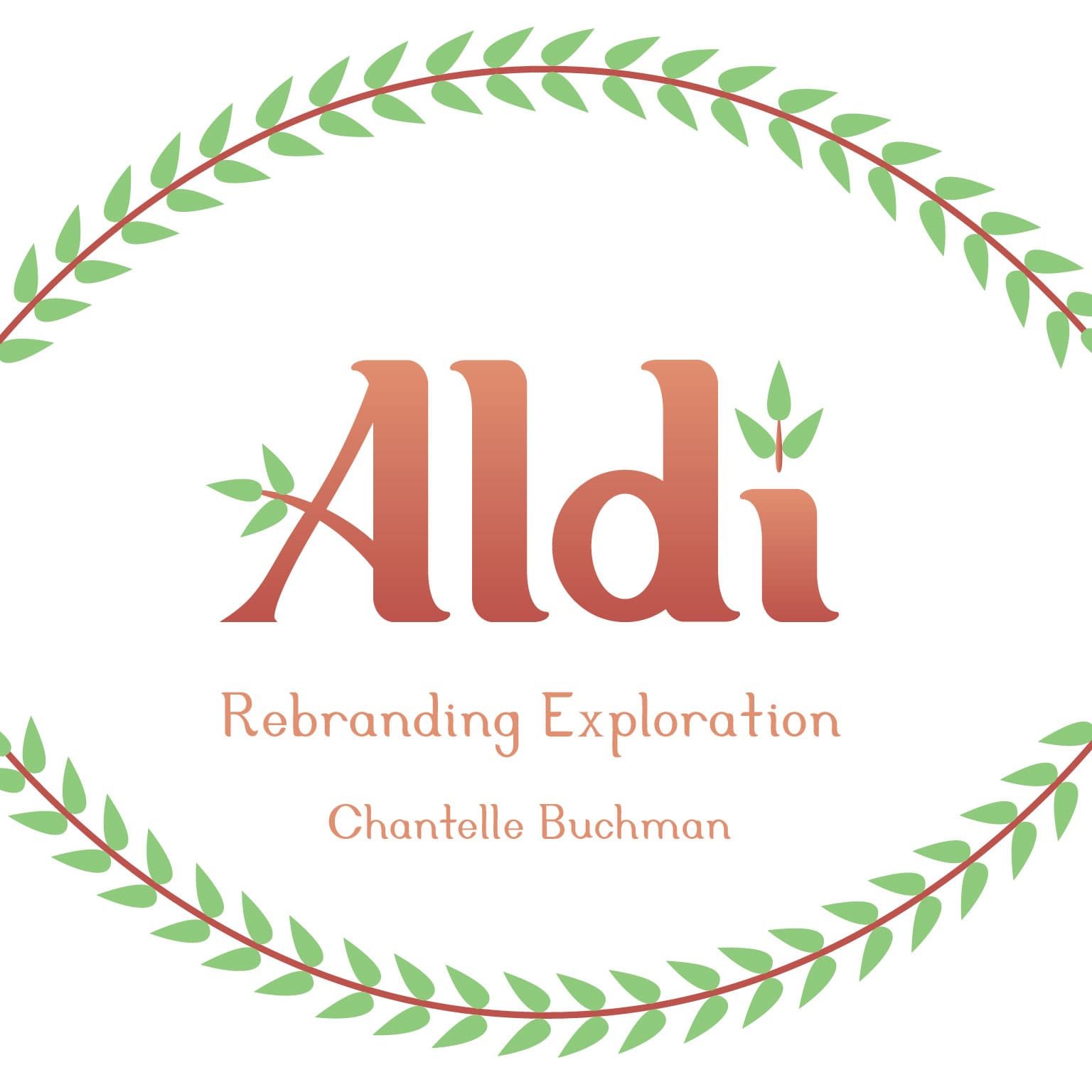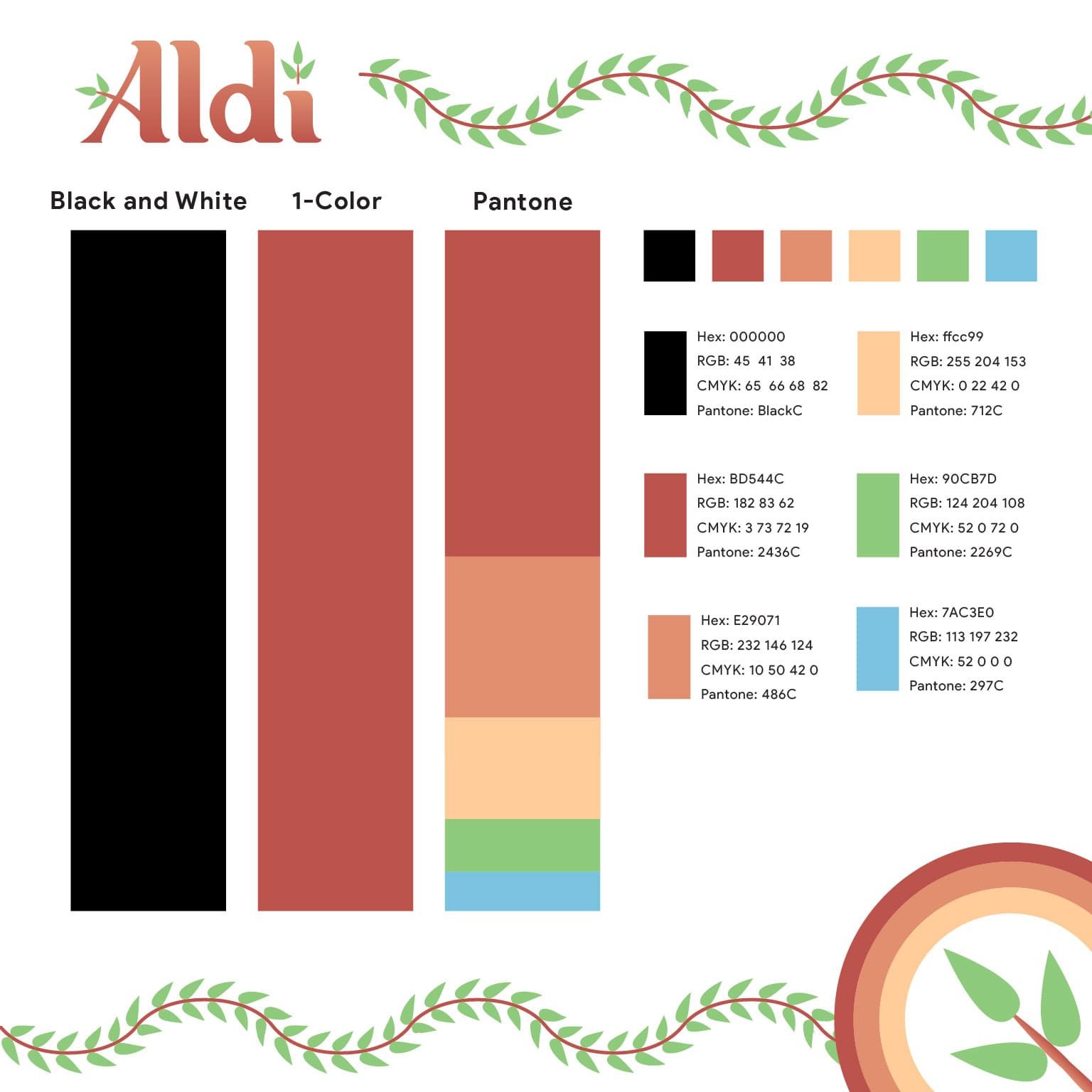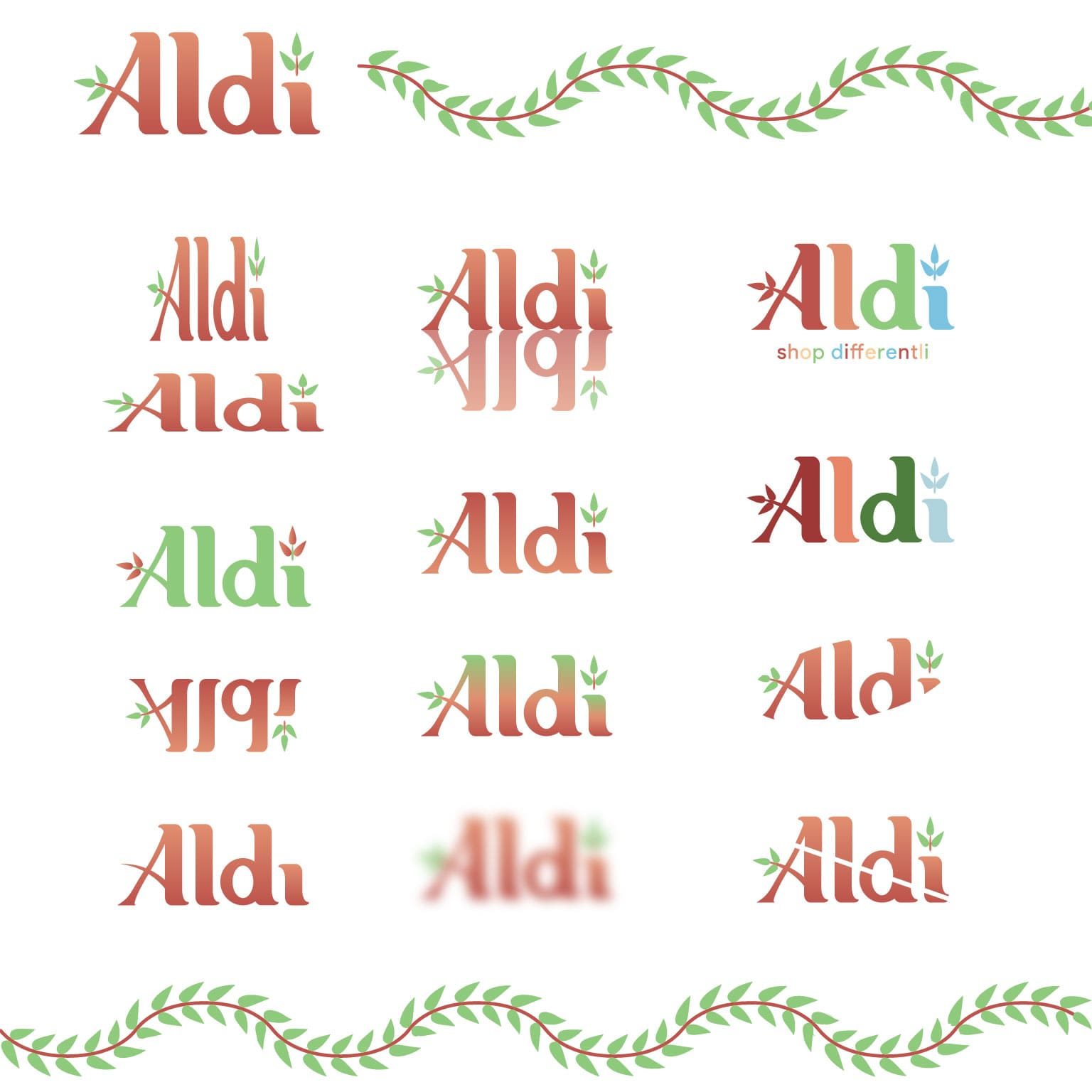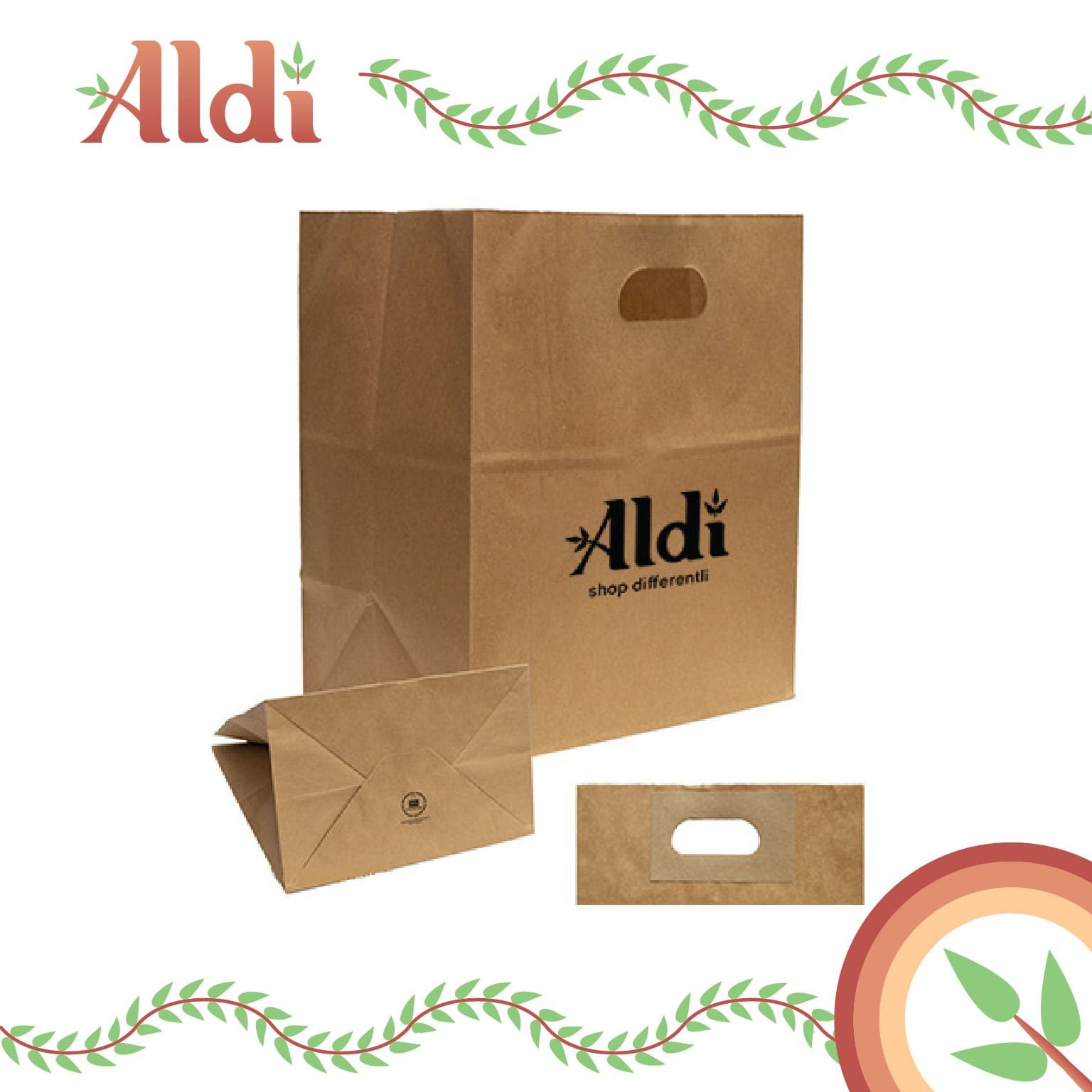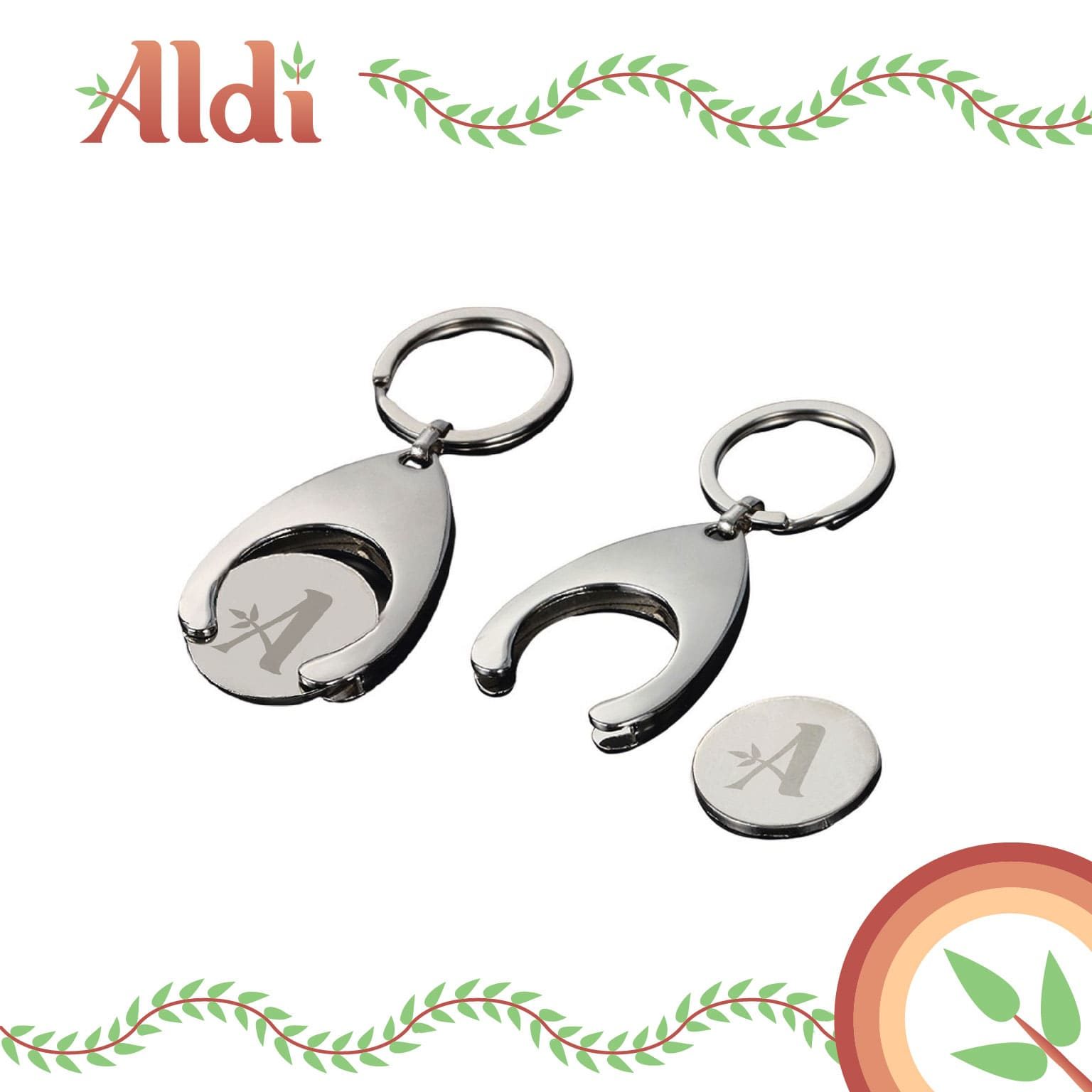 * I do not own any of the touchpoints images. These were taken from vendor sites to create mockup vendor files. Vendor files located below.
Brand Re-design & Promotional Products/ 2021
This is not an official rebranding of Aldi, but rather an exploration of rebranding. In this assignment, I analyzed a pre-existing brand and rebranded it. This meant researching the history of Aldi, looking at both praises and critiques of the brand, and creating change while also working with the pre-existing brand. 
When I asked others for their opinion on Aldi, the main complaint revolved around the quality of the produce. Aldi in recent years has been promoting more gluten-free, vegan, and organic options in their stores. I focused the re-branding on these ideas.
The ability to re-interpret and create new designs is a vital part of graphic design. Branding redesigns are a common practice to not only change a look of a brand, but the ideals as well. The goal of this project was to pick a business and change the brand. We were not allowed to simply update the design. Instead, the goal was to focus the branding on a new ideal. I chose to redesign Aldi, a grocery store chain.
Aldi already has strong branding as it is unconventional compared to other American grocery chains. Customers are expected to bring their own reusable bags and bag their own groceries. Aldi does not carry multiple brands of one product. The store is generally 4-5 aisles long. The groceries are packaged in the same boxes it was shipped in. Aldi even implements a quarter-exchange system to use the shopping carts. These tactics may turn away newcomers, but saves Aldi money and allows the company to pay its workers on average $15 per hour. Employees spend less time stocking shelves with individual items, returning shopping carts, and bagging items, with more time dedicated to checkout lines and store maintenance. 
It can be jarring for first-time customers, but the company also has a loyal fanbase. There is a Facebook group called the Aldi Nerds with 1.4 million members who post and share their "Aldi finds." Aldi rotates a section of weekly products ranging from clothing, furniture, cookware, etc. With this in mind, the rebranding needs to address Aldi's criticisms, but not stray too far to isolate Aldi fans.
I started rebranding by sketching over 150 different logos. These logos varied based on letterforms, wordmarks, iconography, pictography, and abstract designs. These designs were critiqued and narrowed down to 3 logos which I labelled "curved," "serif," and "tilted." I further explored these designs by creating an additional 50 logo variations. Out of those designs, the serif logo won the critique.
When I began to digitize the logo, I struggled to find a font that best matched the design. I created the font Chanshella from scratch. Each element of the font was derived from the logo and applied to each letter of the alphabet. After this, I played with color palettes and different font pairings alongside my logo. Next, I created the branding guidelines describing the rebranding purpose and proper logo application.
To commemorate the rebranding, I designed mockups of uniforms, trolley coin holders, pins, tote bags, and website/ app design. Vendor files were created for the production of these products. The images were derived from vendor sites.